FlexStat® Prevents Static Build-up


FlexStat® and FlexStat® CR are ideal in applications where there is a threat of static build-up. The wood working, plastic processing , pneumatic conveying and powder processing industries (to name a few) are all at risk for static electricity build up in the hose which can lead to static discharge in the form of a spark. FlexStat® offers permanent and non-humidity dependent ESD protection. FlexStat® CR is readily available for clean room and pharmaceutical applications.
More product information...
FlexStat® 60 - Severe Service Applications

NEW PRODUCT ALERT
Flexaust developed FlexStat® 60 for highly abrasive applications where static is an issue. FlexStat® 60 is a static dissipative hose with a .060" wall for the most severe service applications to include hopper loading, railcar loading and unloading and high vacuum applications.
Hazard Alert - Combustible Dust Explosions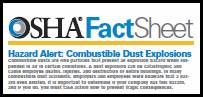 There are a variety of industries where static build-up is a major concern. OSHA names
areas where combustible dust is a risk: agriculture, chemicals, sugar, flour, grain, fertilizer, plastics, wood, paper, pulp, coal..
.
Read more